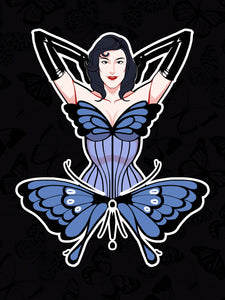 Custom postcard created by Holly Haurelia, Ukrainian Art Nouveau and Art Deco digital artist.
Symmetric digital design based on YOUR burlesque stage look! As bright, dreamy and beautiful as you are!
It can be used for postcards, single stickers, show tickets or small merchandise like keychains.

Are you a cosplayer, drag artist, costuming enthusiast or blogger? Do you want colorful and stylish art commission created just for you? You're welcome!
How to get your own?
1. Place an order at Nemuro Corsets and pay using PayPal Express.
2. Collect your photos, videos and other references at Google Drive.
3. Send the link and details your request to super.holybible@gmail.com 
Detailed working terms:
1. Payment and pricing.

You can pay via Paypal Express at Nemuro-Corsets.com or select "Custom Payment Method" to align other way directly with the artist.
If your request is more detailed that the sample, the price may increase. Additional payment is provided directly to the artist.
Nemuro Corsets (Evgeniia Molodykh) and Holly Haurelia (Olena Strekalova) are family business, Nemuro Corsets is fully responsible for transferring full payment and ensuring customer's safety and satisfaction, including Paypal buyer protection.
2. Creative process and timings.
After you send your references (photos, videos, sketches or moodboard) and detailed request to super.holybible@gmail.com Holly confirms receiving the order.

Next she sends you the sketch to align, you provide the corrections if necessary, or confirm this step.

Then you receive clean lineart, and the final stage - colored art. You may receive several options to choose from and give normal amount of corrections (~3 for one step). 
If you request changes in already confirmed steps, you may be charged extra after negotiation with the artist.

Each step takes 5-7 days normally, so the final result can be received in a month after you send full inquiry and if you confirm the steps in a timely matter.
Urgent orders are discussed separately for extra costs.
3. Terms of use
Olena Strekalova (Holly Haurelia) artwork is copyrighted and can be used for commercial purposes only by the customer or their legal representative. The customer is allowed to use final work in digital or printed format, including merchandise production. We'll appreciate giving a link to the artist as a small business support! 

Please note that we are not responsible for printing or production issues, including costs, logistics and negotiations with the printing sites. You receive high resolution .psd file from artist, further pre-print assistance is not included into commission cost. 
You can find more artwork and printable goods by Holly Haurelia at:
haurelia.carrd.co/
redbubble.com/people/Haurelia/shop
patreon.com/haurelia